Library
Here at St Gregory's we believe that our library should be at the very heart of the school and that reading for pleasure should be an integral component of this.
The library is a multipurpose space and can cater for both free and formal learning periods. We offer a stimulating and engaging environment that is frequently used by teachers and classes in a variety of subjects. We endeavor to create a relaxing and comfortable atmosphere that allows our students to explore their reading preferences and hopefully become life-long lovers of books.
The library is open to both staff and students Monday-Thursday 0800-1630 and Friday 0800-1530. We have a large and ever expanding fiction and non-fiction collection and very recently we have welcomed DVDs into our library.
We run lots of different activities running throughout the year; here are just a few of them:
Read The Movie? Weekly lunchtime film club
Literary Craft Club
Student Librarianship Scheme
Book award shadowing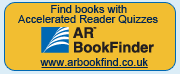 We now have access to the Britannica Encyclopedia Online:
READING LIST & LINKS
Recommended Reads
The reading lists below contain titles that we hope will inspire you. Some explore specific books, others will highlight authors you may want to discover. Click on the document to go to the reading list.
Click to download the Year 7 reading list
Click to download the Year 8 reading list
Click to download the Year 9 reading list